Disc Brake Kits Vs. Hiring A Specialist: Part II
June 13th, 2017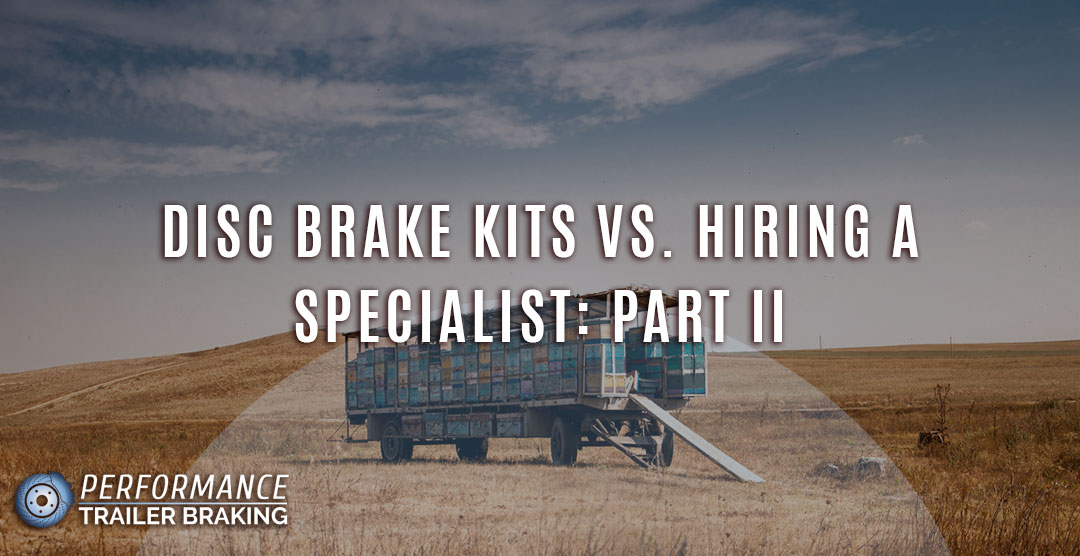 In a previous blog post, we discussed the pros and cons of ordering a DIY disc brake kit to ensure all the necessary safety measures were met. This Part II continuation blog will dive into the second option of brake safety, where we will weigh out the pros and cons of hiring a specialist. When you are in the process of trying to figure out which trailer brake system is best for you, Performance Trailer Braking is here for you, regardless of what you decide on. Read on to see what advantages exist with hiring a specialist, and contact us today to get more information!
Hiring a Specialist
When working with Performance Trailer Braking, you have the option to work with a trained professional who can install the brakes your trailer needs. This is in contrast to ordering a DIY disc brake kit, which is an option that requires you to install the trailer brakes yourself.
Pros
You'll have nothing to worry about! Hiring a specialist can be ideal for many people, because you won't have to worry about installing trailer brakes. A professional, one who is specifically trained in the art of trailer braking, will take care of everything for you. You can rest assured knowing that your trailer brake system will not only be installed properly, but it will be in the best hands out there.
You don't have to leave your house (let alone your trailer). We at Performance Trailer Braking provide a mobile trailer brake installation service for most states. You read that right — we will come to you and your trailer! You don't have to worry about driving your trailer to some other auto shop, because if you're driving to get brakes installed, that means you'd have to drive without trailer brakes in the first place! We'll take care of it for you, and are happy to do so.
Cons
A specialist will come to you, if you live in one of the states we currently serve. If you happen to live in one of the states that is not mobily serviced by Performance Trailer Braking, you will unfortunately not be able to have us come to your doorstep. This is an instance where ordering one of our disc brake kits might work better for you, as all the materials can still be delivered.
You'll have to pay for additional labor costs. It makes sense that you'd need to pay extra costs for labor, especially when you factor in the fact that our professionals drive to you. However, if saving money is a higher priority for you, ordering a disc brake kit might be a better option.
Over the past two blog posts, we've gotten to dissect the two options Performance Trailer Braking offers for installing brakes for your trailer. No matter what option you go with, investing in Performance Trailer Braking is the smart move to make. Put your trailer in great hands - contact us for a disc brake kit or for trailer brake installation today!
"Thank you for making this happen"
Preston and Alyssa did a fantastic job, very professional couple and a great representative for Performance Trailer Braking. Thank you for making this happen. 💯
Pam Falks, Georgetown, TX
"Wow, what a difference!"
Just finished having Disc Brakes installed yesterday by "Bill" the installer for Performance Brakes. Wow, what a difference! After completing yesterday we left on a 175 mile test journey. Read More Drove two lane twists, small towns, and freeway. The braking ability is much more than I expected. During my test ride with installer he had me do a hard brake situation going about 25 mph and we came to a stop in about half the distance of my old brakes. These brakes give you a lot of comfort when driving knowing I can stop quickly if needed. Interestingly, the old brakes which we took off only had about 8k miles on them and the pads were half worn and the eltromagnets were badly worn on two of the wheels. Granted we do more two lane twisty road driving than freeway driving. Bill the installer was very meticulous about his work and in addition found some wires that weren't crimp right (not related to brakes) and fixed them without saying anything until he was done. I would recommend him without any hesitation for Brakes and suspension work. I will report back if there's any change after our 175 mile trip home tomorrow.
Dave Lannoy, NROA Forum Member
"Disk Brakes Rock!"
Disk Brakes Rock! I just converted to disk brakes, using the Titan Performance Trailer Brakes. Whoa Nellie, do they stop smoother and quicker.
Jay Six, Arlington, TX