About Us
We're At Your Service
Choose Performance Trailer Braking for quality products, professional installation, and superior technical support from a team backed by industry expert Ron Russell, also known as the "Titan Guy."
Performance Trailer Braking has been responsible for training RV mechanics, trailer shops, and individuals on proper installation and maintenance of Electric over Hydraulic Disc Brake Systems since 2013. Let us help you with any installation questions. Call now!
Combined experience of 20+ years in the industry
Trained many shops on hydraulic disc brake conversion
Presents at numerous RV shows and rallies every year
Personally trained on-site installer recommendations.
Support by phone anytime, anywhere
National Distributor for all Dexter Axles products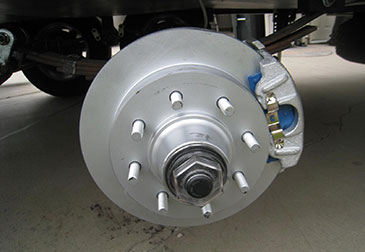 ​Background & Experience
The Barnett Family has been operating Performance Trailer Braking since October 2017. Michael Barnett, a retired military veteran of many years, and his wife Kelly Barnett are full time RVers and now spend most of their time working with customers, attending rallies & shows like the Escapade and Quartzsite, and keeping the warehouse stocked. Dan Barnett, a software engineer, manages the finances, advertising, and maintains the website.
Since taking over, we've worked tirelessly to uphold Performance Trailer Braking's standards of expertise and customer support and do our best to make sure every customer is treated like we would want to be treated.
Performance Trailer Braking was founded in 2013 by Ronald Russell, the "Titan Guy" - a former longtime employee of Titan International. Ron has since retired from day-to-day operations but has stayed on board in an advisory role. In 2015, Performance Trailer Braking trained two teams who install Titan Disc Brake Systems across most of hte country. They are 100% mobile (also full time RVers) and will install anywhere your trailer is parked.
We also have a background in the tire industry and due to constant tire issues related to trailers, we've also started selling tire & wheel assemblies that will dramatically improve your trailer's margin of safety.
"You'll never go back!"
I met The Titanguy at the Dallas RV show in September and have long been wanting disc brakes on my coach. Great gear, works very well... Read More I love them, the extra stopping power, quick response, peace of mind they are going to be there when I need to STOP !!!! Highly recommend if you are thinking about disc brakes to consider Titan and talk to Ron.
Tim Sacrey, Heartland Owners Group
"Wow, what a difference!"
Just finished having Disc Brakes installed yesterday by "Bill" the installer for Performance Brakes. Wow, what a difference! After completing yesterday we left on a 175 mile test journey. Read More Drove two lane twists, small towns, and freeway. The braking ability is much more than I expected. During my test ride with installer he had me do a hard brake situation going about 25 mph and we came to a stop in about half the distance of my old brakes. These brakes give you a lot of comfort when driving knowing I can stop quickly if needed. Interestingly, the old brakes which we took off only had about 8k miles on them and the pads were half worn and the eltromagnets were badly worn on two of the wheels. Granted we do more two lane twisty road driving than freeway driving. Bill the installer was very meticulous about his work and in addition found some wires that weren't crimp right (not related to brakes) and fixed them without saying anything until he was done. I would recommend him without any hesitation for Brakes and suspension work. I will report back if there's any change after our 175 mile trip home tomorrow.
Dave Lannoy, NROA Forum Member
"Disk Brakes Rock!"
Disk Brakes Rock! I just converted to disk brakes, using the Titan Performance Trailer Brakes. Whoa Nellie, do they stop smoother and quicker.
Jay Six, Arlington, TX