About Us
We're At Your Service
Choose Performance Trailer Braking for quality products, professional installation, and superior technical support from a passionate and experienced family-oriented team.
Performance Trailer Braking has been responsible for training RV mechanics, trailer shops, and individuals on proper installation and maintenance of Electric over Hydraulic Disc Brake Systems since 2013. Let us help you with any installation questions.
Presents at numerous RV shows and rallies every year
Personally trained on-site installer recommendations
Support by phone or email anytime, anywhere
National distributor for all Dexter Axles products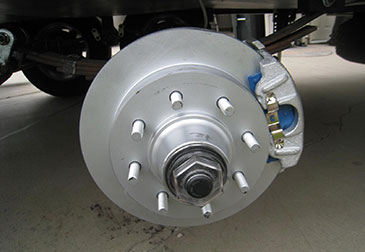 ​A Family Affair
Performance Trailer Braking was founded in 2013 and the Barnett Family has been operating Performance Trailer Braking since Dan Barnett purchased the company in October 2017.
Since then, the company has grown around the Barnett's, with Dan, Amanda, Michael, Kelly, Zack, and others all pitching in in various roles. Even those who aren't technically family get treated like they are!
Michael Barnett, a retired military veteran of many years, and his wife Kelly Barnett are full time RVers who spend most of their time working with customers, attending rallies & shows, and keeping the warehouse stocked.
Dan Barnett, a tech veteran of the digital advertising industry, and his wife Amanda, manage the finances as well as the marketing and advertising.
Since taking over, we've worked tirelessly to push PTB's standards of expertise and customer support to new limits and do our best to make sure every customer is treated like we would want to be treated.
We have a small team of honest, hard working folks who are part of the family and help keep things running smoothly for our customers.
In addition, we have teamed up with several mobile independent installers who travel around the country to do brake, axle, and suspension installations.
""WHY DIDN'T I DO THIS YEARS AGO?!?!?!?!!!""
Just a quick note to share some final feedback. I completed the installation with no incidents and I only had to place one phone call to address an actuator wiring question. That quest Read Moreion was handled effortlessly, professionally, and left me with a crystal clear understanding of how to proceed. I took the camper out for a 60 mile test drive 2 days ago and it went flawlessly. The only negative I came away with was the burning question "WHY DIDN'T I DO THIS YEARS AGO?!?!?!?!!!". This setup is a game changer and if I knew then what I know now I would have done the conversion on a brand new camper before even taking it out on its maiden voyage.

You folks put together a very nice and concise kit package and the directions are quite straightforward. The technical call is a wonderful safety net, just in case. I couldn't be happier with my purchase decision and I will recommend you folks to anyone with even a mild interest. I look forward to years of highly effective braking from my rig, thanks to your superb kit.
Mike H
Mineral Bluff, GA
"Thanks again for the great experience!"
Kelly,

It has been an awesome experience thanks to you, Michael, Preston and Alyssa. After finishing a conference call about 10:00 AM this morning, I hooked up the RV and pulled it o Read Moren a 60 mile round trip just to check it out. WOW! Huge improvement in ride and the brakes are phenomenal! We have our first trip with the new setup next week. Looking forward to that more than ever!

I never shared the following story. My neighbor at the storage facility installed disc brakes on his Grand Design toy hauler. He recommended a company in Weatherford, Texas. I made three attempts to set up an appointment over the last 5 months. Each time something on their end came up that changed that, or they were incomplete in details requested.

This is when I went to Utube and discovered Performance Braking. I was shocked and very pleased when I found out that your installers come to us. The other company required two days with the RV after I delivered it. I was even more shocked to find a company that responds to questions after hours like Michael did, even when it was my mistake that led to that need.

Thanks again for the great experience! I will not hesitate to share that experience with others when the opportunity presents itself.
Wayne A.
Highland Village, TX
"Love the Brakes!"
Love the brakes by the way. Easy install and after about 5 months of use these are worth every penny.
Ben G
Columbia, MD
We accept ACH (electronic check), Mastercard, Visa, Amex, Discover, Apple Pay, and PayPal, which offers 6 months interest free with a new card.