Tire & Wheels Packages
Get the Right Tires to Eliminate Trailer Blowouts!
Choose a tire and wheel combination that equals your trailer's GVWR.
This will give you a 20 percent minimum reserve load capacity.
Reserve Load Capacity
To understand "Reserve Load Capacity," you need look no further than the vehicle in your driveway.
Did you ever wonder why we have very few tire issues with our passenger cars, SUV's and light trucks, yet our trailer tires are a constant worry?
The vehicles we drive every day have a 20-30 percent reserve load capacity, yet our trailers are running 90 percent + loaded all the time.
So, if we want the type of safety and reliability out of our trailer tires that we have in our passenger vehicles, we first need to achieve a similar 20-30 percent reserve load capacity.
Example
2016 Mazda 6 has a GVWR of 4,288 lbs The tire is a P225/45R19 92W with a load capacity of 1,389 lbs per tire or a total of 5,556 lbs or 77 percent loaded at GVWR. A 23 percent reserve load capacity at GVWR. This vehicle has a curb weight of 3,130 lbs or 1,158 lbs of cargo capacity.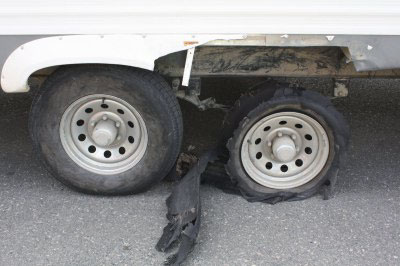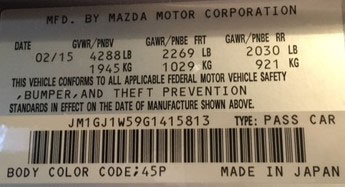 How do I determine how much additional capacity I need on my 5th wheel trailer?
Your GVWR should be on a tag on the trailer near the tire information tag.
Simply take your GVWR (Target weight) ÷ 4 tires = Target load per tire.
This assumes a 20% pin weight
Example (14,500 lb. GVWR): 14,500 lbs ÷ 4 tires = 3,625 lbs target per tire load capacity.
Remember, we want a 20% reserve load capacity so, we do not deduct the 20% pin weight.
Pin Weight Variation
Because pin weights will vary the preferred method is to weigh each wheel position on the trailer using a program like Escapees Smart Weigh program
In this example we have a 2012 Redwood 36RL that was Smart Weighed, with a 15,500 lb. GVWR.
The actual pin weight is 3,000 lbs and the heaviest loaded wheel position is the LF at 3,300 lbs
3,300 lbs x 120% = 3,960 lbs would be your target per tire load capacity.
Tire Load Chart
Find the corresponding target load & tire in this chart.
Compare the overall diameter (O.D.) of your current tire to your new tire.
| Size LR | Load | Speed | PSI | O.D. |
| --- | --- | --- | --- | --- |
| 215/75R17.5 H | 4805 | 75 | 125 | 30.4 |
| ST235/85R16 G | 4080 | 65 | 110 | 31.8 |
| LT235/85R16 G | 3750 | 75 | 110 | 31.8 |
| LT235/85R16 E | 3042 | 75 | 80 | 31.6 |
| ST235/80R16 E | 3420 | 65 | 80 | 30.8 |
| ST225/75R15 E | 2830 | 65 | 80 | 28.3 |
| ST225/75R15 D | 2540 | 65 | 65 | 28.3 |
| ST205/75R15 D | 2150 | 65 | 65 | 27.2 |
| ST205/75R14 C | 1760 | 65 | 50 | 26.1 |
Trailer Tire Specifications
We currently sell Goodyear, Rainier, and some Sailun tires, wheels, and tire + wheel assemblies. Call for pricing and help with your selection.
"Quick & Efficient"
You guys rock!! Installed all new suspension and brakes and couldn't be happier! I pulled it last night and it is night and day.

Thank you for the quick ship and efficient trans Read Moreaction.
Darrin H.
Roanoke, TX
"After the Sale..."
Hi Michael,

I would like to thank-you for all the assistance that I received after the sale of the brake conversion Kits. The brakes are working great.
Gordon R
Dansville, NY
"Very impressed with the new disk brakes"
Wow! Josh and Heather finished little after noon today. Heather and I test drove my TV with the trailer in tow and I am definitely very impressed with the new disk brakes. I love them Read Moreand am anxious to get a full test in on the highway. I am sure I will love them. And I cannot say enough about Josh and Heather - they were total professionals and were attentive to every detail. I would have NO question about recommending their services to anyone!. Thanks for using them!
Joel Heiney
Casper, WY
We accept ACH (electronic check), Mastercard, Visa, Amex, Discover, Apple Pay, and PayPal, which offers 6 months interest free with a new card.