Disc Brake Kits Vs. Hiring A Specialist: Part I
June 6th, 2017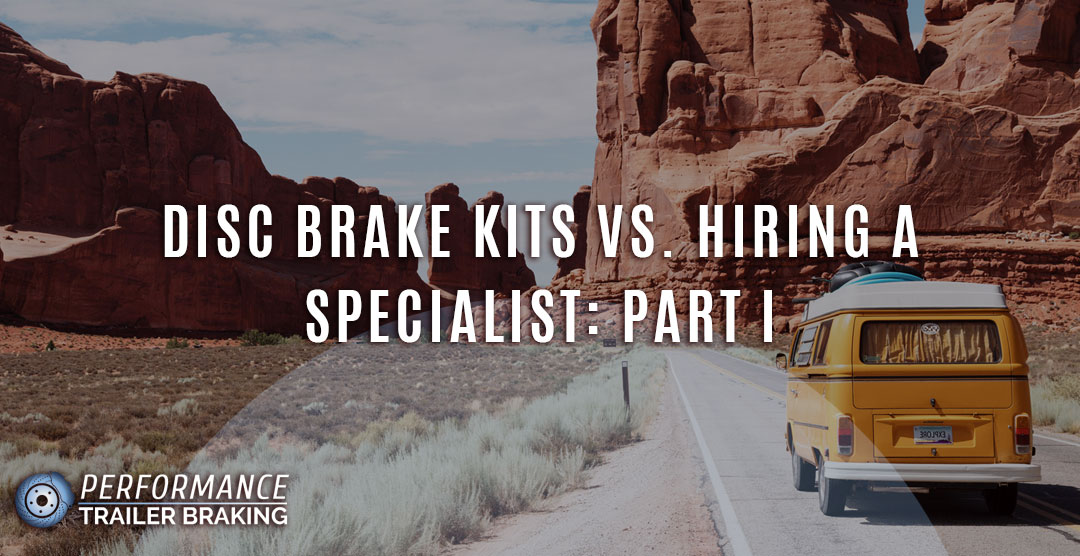 Before you purchase a boat, a trailer, a camper, or anything else that needs to hauled via your vehicle, you know you're going to need a couple things to get started. You'll need a trailer hitch, if your vehicle does not already have one, and you will also need to invest in a trailer braking system.
There are two ways that you can establish a secure braking system for your trailer and vehicle: order a disc brake kit, or hire a specialist to install brakes for you. In today's blog, we're going to break down the pros and cons of each to help you decide which form of trailer braking is best for to invest in. Read on to find out more, and contact Performance Trailer Braking to get your trailer set up with the brakes it needs today!
Why Trailer Brakes Are Necessary: A Recap
It can be easy to think your truck or other vehicle will be able to handle the demands of the road. Maybe you're just hauling your jet ski to the lake that's only a few miles down the road, or maybe you only take your camper out a few times a year. At Performance Trailer Braking, we hold to the standard that if you wouldn't take those trips in a car that didn't have proper brakes, you should not do the same when hauling a trailer.
The added weight that comes from a trailer adds considerable pressure to the brakes of your vehicle. For this reason, it's essential to have high-performing trailer brakes that alleviate some of this pressure from your car or truck. When you have something that needs trailing, you need to make sure you also have brakes for your trailer. This is critical from both a safety standpoint, and also from a vehicular preservation standpoint. Preventing damage to your car brakes also prevents additional trips to the auto mechanic, which in turn prevents damage to your wallet as well!
As mentioned previously, there are two main ways to install trailer brakes. Take a look to learn more about disc brake kits, and figure out which option is going to work the best for you.
Disc Brake Kit
A disc brake kit is essentially a DIY kit that allows for you to install brakes on your own. Performance Trailer Braking offers a DIY disc brake kit that promises to be one of the best in the industry. Our kits include everything you need, and are all manufactured from the same company.
Pros
You don't have to pay labor costs. This is perhaps one of the best reasons why many people opt for a disc brake kit. Additional labor costs can be in the hundreds of dollars; purchasing a kit that you install yourself eliminates the extra costs.
You don't need advanced mechanical knowledge to be successful. The kits are relatively easy to install, coming with a very complete set of directions. Many people without auto or mechanical training will still be able to set up their trailer and vehicle for success through purchasing a disc brake kit.
You are in control of the schedule and timing. How nice is it that with disc brake kits, you get to work on installation when it works for you? With these DIY disc brake kits, you don't have to schedule an appointment, wait for several days (or even weeks), and have to rush to show up somewhere right on time. The control is in your hands!
You have people to support you. Order disc brake kits through Performance Trailer Braking, and you gain access to free technical support whenever you need it.
Cons
You might feel inexperienced, and as such, might make a mistake. For many people, installing trailer brakes are totally within their wheelhouse, regardless of mechanical experience. However, brakes are not something you want to mess with, and those of us who feel totally clueless about braking systems will probably feel overwhelmed by DIY mechanical work.
You might not know if you made a mistake. If fluid is leaking, you'll probably get a sense that something is off (and if you don't get that sense, you should). But otherwise, you might not really have an idea that something's not right, especially if your car brakes are simply overcompensating for the trailer. Working with a professional ensures that your trailer will be set up.
Something important to note is that while there are more pros to disc brake kits than cons, their weight is totally dependent on the person. The biggest thing to keep in mind is where your personal comfort level is at, and which option makes the most sense for you. If you don't have a lot of mechanical experience, but enjoy assembling and constructing things and/or are skilled at following step-by-step instructions, you'll probably be successful at installing a trailer brake system. If not, take a peek at our upcoming blog that dives into the pros and cons of hiring a Performance Trailer Brake professional to help you and your trailer out.
No matter how you go about it, your trailer brake system deserves the best to ensure that you are best able to haul trailers appropriately. Protect your boat, your camper, your trailer, and your car, but even more importantly, protect yourself. Stay safe with the right trailer brake system, and contact us today to get your trailer brakes on the right track!
We accept ACH (electronic check), Mastercard, Visa, Amex, Discover, Apple Pay, and PayPal, which offers 6 months interest free with a new card.