Selecting Your Perfect RV – Part 2
July 15th, 2017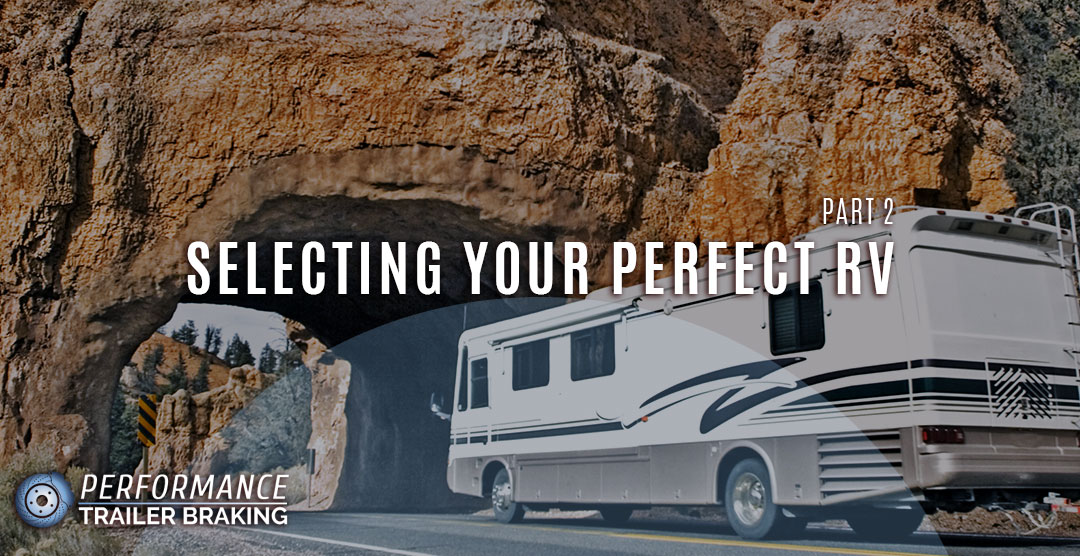 Hello, and welcome back to Performance Trailer Braking's blog. In our last post, we discussed some of the top tips and questions to consider before you invest in an RV. For example, do you know what your plan is, and how long you intend to travel the country in your new RV? What about who to listen to when it comes to taking RV advice? If you want to learn more about how to choose the perfect RV for you, read on!
Resale Value
For some people, resale value won't matter much. For example, those of you who want to keep your RVs for decades will not need to be concerned with reselling. However, those who are starting out pretty inexpensively or know they will be buying a new one in a few years' time will definitely want to consider resale and trade-in value. Keep in mind, however, that Kelley Blue Book estimates and guides are not as accurate for RVs as they are for cars and trucks. This is usually because the manufacturers of RVs aren't as consistent with retail base pricing as they can be with cars. If you are researching resale values, we don't recommend jumping straight to guides.
In general, RVs with slideouts have a better resale value. The same is true for motor homes that have diesel engines over those with gasoline engines. Do your research if the resale value matters to you and proceed accordingly!
Campground Choices
Are you going to be spending long amounts of time in state and national parks? If so, you aren't going to want to be toting around a 40-footer. Many of the campgrounds at these parks were not designed to handle massive RVs, as the grounds were designed 20 years ago or longer. Choose what matters more to you: having a wider range of campsites you get to visit, or having more living space? Think about your priorities.
Travel Frequency
We know that the point of your RV is to travel the country, and we get it! However, your RV selection might change depending on how often you change destinations and how far you intend to drive each day. Your answers might determine whether it makes more sense to get a motorhome or a towable. Shorter drives and longer stays mean a towable makes more sense, while long drives and lots of changes mean a motor home might be the better choice.
If you intend to only drive a few hundred miles or less during your move, and you plan on staying for a month or so at each spot, you may want something that feels more like a house. Towables can give you that feeling, as there is no steering wheel or cockpit to remind you that you are in a vehicle. Your needs and preferences will determine what the best option is for you.
Maintenance
If you can do your own handyman work, you can choose a used RV and do any maintenance needed yourself! You might even find some great deals out of state, so don't discount the value of a trip elsewhere to find a good RV. However, if you aren't sure how to fix up a used RV, you can certainly buy new. New RVs will come with warranties and protection that will keep you feeling pleased with your decision for years to come. We recommend researching your manufacturer's reputation before buying just to see if people are satisfied with the service they have received since purchasing their RVs.
Electric Over Hydraulic Brakes
Whatever RV you choose, you need to know that it can stop quickly and smoothly, keeping your towing vehicle strong and damage-free. Contact Performance Trailer Braking today for the top brake kits available!
"We are happy campers"
Thank you for the professional installation of my new disk brakes. Preston installed them on 12/30/2019 and the next day traveling thru Dallas/Fort Worth we had three occasions to stop Read Morequickly with confidence on 35W. We pull 15,000 miles a year thru mountains and flats. I now relax behind the wheel pulling our 40 ft 16,000 lb 5th wheel. We are happy campers, Dump those drum brakes for disk brakes. Thank you to your entire team in Norman, OK. My old drum brakes always felt like the trailer was pushing the truck when I stopped. Now I feel like the trailer and truck stop together with no feeling of being pushed. You have to remind yourself the trailer is still back there.
Gil and Sandy Palmer
"Unbelievable..."
Now that we're back on the road, we're able to experience the results of our upgrade. The only word I can think of to describe the difference is "unbelievable". The stopping po Read Morewer in the new disc brakes is so much better that it takes the stress out of pulling the RV. When I apply the brakes now it's almost as if I didn't have the trailer behind me. I also feel much more confident with the upgraded suspension components.

I also can't say enough about Barbara and John Alinger, our installers. They we're so friendly and hard working. They had the upgrade done at the rally in about 4 hours then took a test ride with us when we were leaving to be sure everything was working well. They are great ambassadors for your company and products.
Bernie N.
Manchester, CT
"Thank you for making this happen"
Preston and Alyssa did a fantastic job, very professional couple and a great representative for Performance Trailer Braking. Thank you for making this happen. ?
Pam Falks
Georgetown, TX
We accept ACH (electronic check), Mastercard, Visa, Amex, Discover, Apple Pay, and PayPal, which offers 6 months interest free with a new card.