What Is Trailer Sway?
August 5th, 2017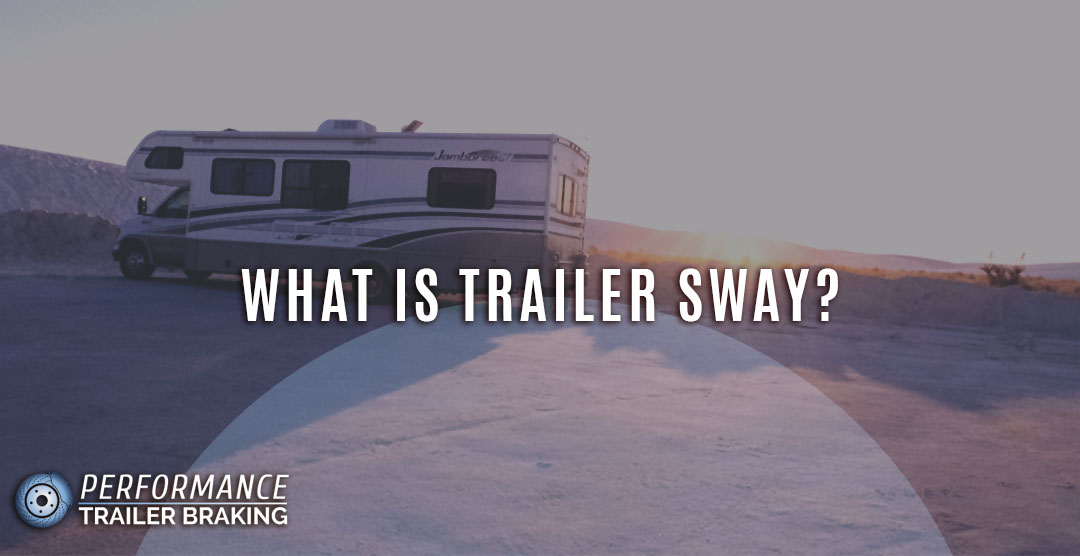 When it comes to finding a trailer brake system, some trailer owners may find themselves wondering, "What's the big deal?" While your trailer likely comes with brakes, it's still important to be prepared in case of an emergency with brakes you know can safely bring your towing vehicle and trailer to a complete stop. With that in mind, we need to discuss trailer sway and ways to avoid trailer sway!
What is Trailer Sway?
Trailer sway is the number one cause of all trailer accidents, and it's also the top reason many campers call it quits after just a few seasons and put their trailer up for sale. So how do we define "trailer sway?" It's when the side forces on the trailer cause the trailer to swerve from side to side as it is being pulled behind the tow vehicle.
Side forces
The first factor that affects a trailer's sway is the side forces. Unfortunately, there is nothing we can do to control this. No matter how big or small your trailer may be, it will always offer a larger side cross section than that on your vehicle. It is not uncommon on days where there is a 30 mph wind blowing for an additional 370 pounds of pressure to be pushed against your trailer's side. The taller the trailer, the greater the force—and this doesn't even the take the size of the trailer into account. Even though it may seem like a lighter trailer could help, or a heavier towing vehicle, this simply isn't the case.
With the tow vehicle, there is likely an uneven amount of pressure being placed on the side. If we were to link two objects together, then push one harder than the other, its tendency will be to overcome the frictional resistance quicker than the object with less force. Basically, the trailer will always have more side force than the towing vehicle. Even in cases where there is a large towing vehicle and a smaller trailer, the trailer will still sway and pivot on the ball. At some pound, the trailer's side forces will overcome the friction in a sway control hitch.
Factors other than the wind
The wind is very much the worst enemy of the trailer, but there are other factors that can lead to trailer sway. For example, passing a semi-truck. The bow wind of this truck pushes the trailer to the side, and a mild vacuum created at the back end of the truck tugs the trailer back towards it. This is the same as wind in many ways, but it will often catch the person towing the trailer by surprise. Since it hits the travel trailer before the tow vehicle, it only makes the swaying worse.
Also, uneven roads that tend to tug a trailer's tires to the side can lead to trailer sway. The trouble is, usually, these roads are typically found in construction areas with concrete barriers. The slightest brush against these concrete barriers will result in thousands of dollars of damage and will likely make you unable to complete your trip.
How to Control Trailer Sway
To be honest, the only factor you can control when it comes to trailer sway is the linkage system and the connection between the tow vehicle and the trailer. Since the forces working against the towing vehicle and the trailer are not even, we have to work to make these forces more even. While we can't change the size of the truck or the trailer, we can make sure these two lose their ability to move separately. You can connect them and lessen the mobility to help both of them take the wind pressure together. Trailer sway is avoidable, as long as you do your homework when it comes to the best hitch type for your trailer.
Your Trailer Brakes
Preventing trailer sway will only do so much if your trailer brakes can't help slow you down in case of an emergency stop. If you are ready to see what our electric over hydraulic brakes can do for you, make sure to contact us! We look forward to working with you as you work to make your trailer as safe and sturdy as possible.
"Truly one of a kind amazing people!!!!"
Hi Kelly,
I just wanted to take a minute and thank you for all your help getting this done but most importantly I wanted to really thank you for setting us up with John & Barbara for th Read Moree install.
Professional, polite, fun, knowledgeable and just simply decent people doesn't even to begin to describe them. Your company is truly blessed to have them!! What an amazing team they are.
They both explained every step of the way what was going on, explained every part being used and it's purpose. We left for a couple hours during the install and our campground neighbor was totally impressed that even while we were not there they kept working and never missed a beat!!!
After the install was complete John & Barbara hung around for a while going over everything and making sure I had no questions. I'll be honest.. I'm not the most mechanical person and John made sure I understood everything and the proper way to maintain it as well as making sure I had all their contact information if I ever needed anything or had a problem or questions!!
Truly one of a kind amazing people!
Don & Gayle Huggans
Weymouth, MA
"Nothing but praise"
I wish to thank the entire PTB team for their professional service. From the initial set up of parts needed, ordering and shipping and finally the installation yesterday by Josh and Heat Read Moreher, I have nothing but praise for Performance Trailer Braking. Thank you for living up to your superb reputation.
Dave Walker
"Love the Brakes!"
Love the brakes by the way. Easy install and after about 5 months of use these are worth every penny.
Ben G
Columbia, MD
We accept ACH (electronic check), Mastercard, Visa, Amex, Discover, Apple Pay, and PayPal, which offers 6 months interest free with a new card.