Top Trailer-Towing Tips
June 12th, 2017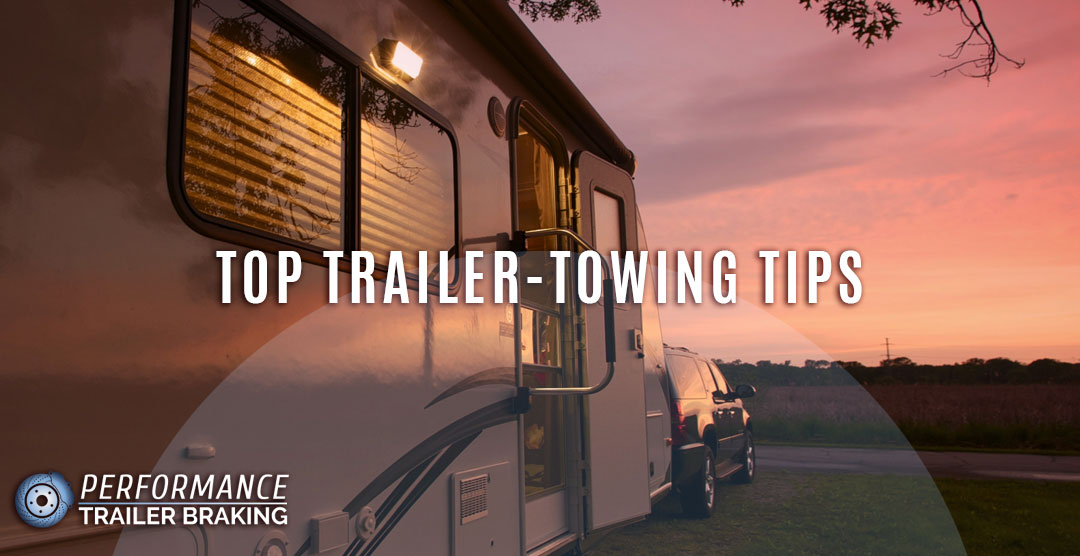 In order to have a successful tow trip, you need to know how to properly set up your trailer and maintain it. Driving your trailer is completely different than driving a car, and even with a top-of-the-line trailer brake system, it is much more of a process to come to safe stop. Everything takes longer when you are towing a trailer behind you—slowing down, speeding up, and turning corners are all going to be different than just driving your vehicle alone. We at Performance Trailer Braking are here to help you know what to do in order to have a safe and worry-free trip!
Proper Tongue/Pin Weight
On bumper pull type trailers, to get good stability, make sure to set your tongue weight to 10 to 15 percent of the trailer's total weight. If your vehicle doesn't have the rear suspension spring rate to make this work, you can always find an equalizing hitch to transfer some of the tongue weight forward. It can move it to the front axle.
On fifth wheel or gooseneck type trailers, the proper pin weight is 20%-25% of the gross vehicle weight.
Use Safety Chains
Your safety chains should be crossed under the hitch from side to side in an X pattern. This keeps your trailer safe in case the hitch comes adrift. The trailer tongue will drop onto the chains and not fall to the ground, allowing you to better control your vehicle and limit any damage. Also, with crossed chains, you'll be able to turn in a tighter circle without worrying about them binding.
Tire Pressure
Make sure to test the tire pressure frequently. If you keep them at their max recommended pressure, then the tires will run cooler and you won't need to use as much gas to successfully tow the trailer.
Do An Inspection
Every time that you make a stop on your journey, take a minute to inspect the hitch, the wiring, and the tires. The trailer harness connector and the breakaway cable should still be connected. Ensure that the hitch pin and its hairpin are still keeping the drawbar in place. We also recommend checking the temperature of the brake drum and wheel-bearings. If one is hotter by quite a bit, then there is an issue that needs to be resolved before you get back on the road.
Check Load
It doesn't matter how tight you make the tie-down for the load. They will begin to loosen as everything moves and wiggles during the journey. Check this when you stop and ensure that everything is still properly secured.
Bearing Life
Make sure to pack the trailer bearings with the axle manufacturer's recommended wheel bearing grease. On disc brakes, we recommend a high quality heavy red high-temp disc brake like Lucas Red 'n' Tacky or Pennzoil 707L Premium Wheel Bearing Grease. The better the quality, the more likely it is that you will keep the bearing life long. Do this every year, if not twice a year if your boat trailer is regularly immersed in water.
Check Brake Lights
Once you have the trailer connected, make sure to check that the lights are properly connected. You should be able to see both turn signals, as well as the brake lights before you hit the road. This is arguably one of the most important things to check before you begin your trip, as it can put other drivers in danger if it isn't properly connected.
Brakes
If you have electric brakes, check the function as soon as you can. You can do this by sliding the brake controller lever by about an inch. If you feel the trailer brakes actuate, then you are ready to go! If you have electric over hydraulic brakes, then this should be an easy process. Electric over hydraulic brakes will reduce your stopping distance by as much as 50% delivering safe, smooth and consistent braking giving you the confidence to handle your long voyage with both your vehicle and your trailer.
If you are in need of a trailer braking system that will keep you and your trailer safe, as well as everyone else on the road, it's time to contact Performance Trailer Braking. We know that our professional brake kits will meet your needs, and our network of installation experts would be happy to test the brake functionality for you. Shop our kits today to find the best fit, and reach out with any questions you may have about our products. With electric over hydraulic disc brakes, you will feel the difference when it comes to smooth braking, durability, and confidence in even the steepest of roads. Let's get you on the road safely!
"The brakes really work!"
Just a thank you -- shout out: the brakes really work!...On the trip north, we got into a situation that required me to perform an emergency stop. Boy, did those brakes stop. Literally l Read Moreocked up the wheels on the RV. Tires were actually smoking from skid-burned rubber. I'm pretty sure if I still had the electric drum brakes, I would have rear-ended someone. Thanks for a great system and an great installation.
Steve Andrews
"Not a drop was spilled!"
We've traveled 4,000 miles since we had the Morryde 4000 installed and love them. Yesterday while traveling from Nashville to Memphis we discovered that my wife left a half a cup of c Read Moreoffee in the microwave! Not a drop was spilled!
Mike G
Hot Springs, AR
"Professionalism, thoroughness, & mechanical skills"
I wanted to pass along to you all how happy I was with Preston's professionalism, thoroughness, and mechanical skills. He performed the work and was very accommodating.
William Bonta
Tebbetts, MO
We accept ACH (electronic check), Mastercard, Visa, Amex, Discover, Apple Pay, and PayPal, which offers 6 months interest free with a new card.