Is The Full-Time RVing Lifestyle For You?
August 10th, 2017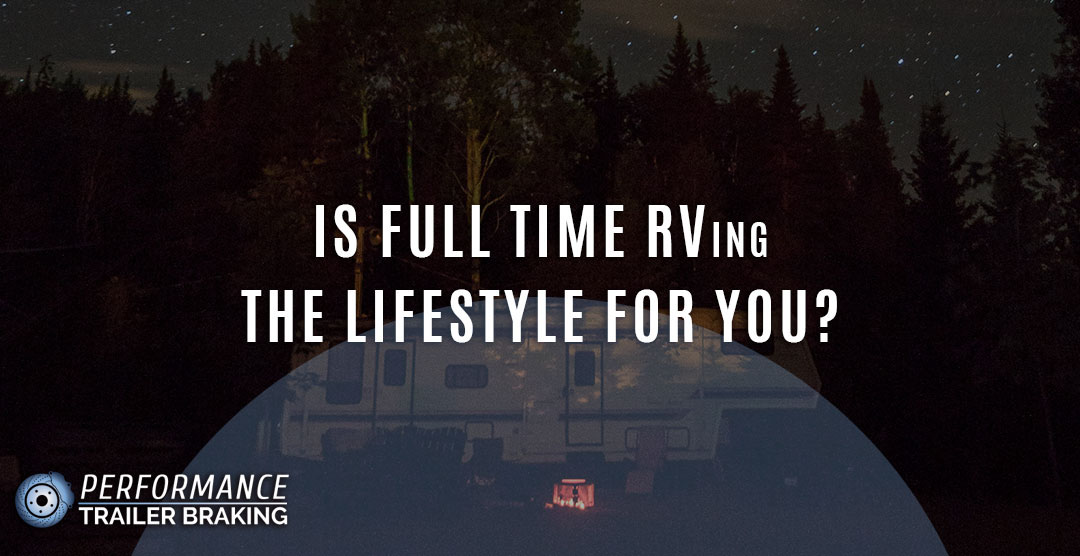 It's a question that passes through every RVer's mind at least once but isn't something people commit to very often. "Can I live out of my RV?" I think a better question would be, "should I live out of my RV?" And to answer that, you're first going to need to know if the lifestyle is right for you. You'll never be 100 percent sure it's right for you until you get out there and try it, but we're going to talk about a few things you should consider before you make the leap so there aren't any surprises later on down the line.
Be aware that if you're new to RVing, you shouldn't be considering this option yet. If you want to build your life around RV travel, you'll want to have some experience under your belt first. You can't be dealing with RVing basics when you'll have plenty of other things to worry about!
Making money
It's the first thing we all consider before committing to a life on the road. It can be scary thinking of how you will pay for expenses while on the road because there are so many things that could go wrong. What if your RV breaks down and you don't have the funds to repair it. Or what if your strategy for making money didn't work out the way you thought it would? These are all legitimate concerns, but the truth is, there are hundreds of RVers across the country who manage to make it over these obstacles and live the life they've always wanted, and so can you!
Many RVers start their own business and these businesses were often designed specifically for a lifestyle that involves a lot of traveling. Since you'll be meeting a lot of other RVers on the road and at RV resorts, why not try to cater your business to them? Many RVers sell RV products or provide repair services. You'll need to test the waters though and determine what specific products or services are in demand. So next time you're on an RV trip, make sure to talk with other RVers about what products or services they need and how they usually get them. This will give you a better idea of the market and allow you to start planning your business model.
Another option is online work. Free wifi is offered just about anywhere nowadays and if you can find a job that can be done remotely, this may be a great option for you. However, this entirely depends on where you're planning on traveling. If you like going to really remote areas, you most likely won't have internet access. Another thing to take into consideration is how much time you will have internet access each day and plan your time accordingly.
Another simple way to have more money available is just to get used to spending less. If you are used to making a lot of money, you'll need to adapt to a lifestyle that requires you to make every penny count. This may sound scary at first, but once you develop a plan and get into the routine, it'll be second nature!
Relationships
Whether you're married, engaged, or single, relationships can be an issue when committing to full-time RVing and if you don't know what you're in for, it may come as a surprise. If you're in a relationship, you'll first want to make sure your significant other is on board with the decision and that they're as well informed about this lifestyle as you are. First of all, you're going to need to expect to have less privacy than before. In an RV, you won't have much room to yourself. If you're single, you'll want to get good at acquainted with people quickly, because you'll most likely be moving around often.
In addition to romantic relationships, you'll want to make sure to keep up with friends and family back home. Plan trips to visit them, as well as people you meet along the road.
Belongings
Another thing you will need to take into consideration is that you will need to become a minimalist. In an RV, you won't have the luxury of being able to stockpile things. If you're someone who loves to keep tons of jewelry, clothes, or electronics, this is probably not the lifestyle for you. If you want, you can pay monthly for a storage unit to keep leftover things in, but this will be a huge financial commitment in the long run. So if possible, give your belongings to a family member or friend to hang on to, or just get rid of it all together.
If you've decided to make the leap and become a full-time RVer it's imperative that you have a trailer brake system that functions properly. At Performance Trailer Braking, we have the best disc brake kits with improved stopping performance, free technical support, and a name that you can trust! We're a Top Rated Local® company with 20+ years experience in the industry.
All of our trailer brakes can be installed with little-to-no previous mechanical experience making them ideal for someone who's on the road often and doesn't have the time to work around someone else's schedule. Although each DIY kit comes with an in-depth guide on how to install your new brakes, Performance Trailer Braking is always here for you if you need extra help. Contact us today for more information!
We accept ACH (electronic check), Mastercard, Visa, Amex, Discover, Apple Pay, and PayPal, which offers 6 months interest free with a new card.