FAQs About Trailer Brakes
May 15th, 2017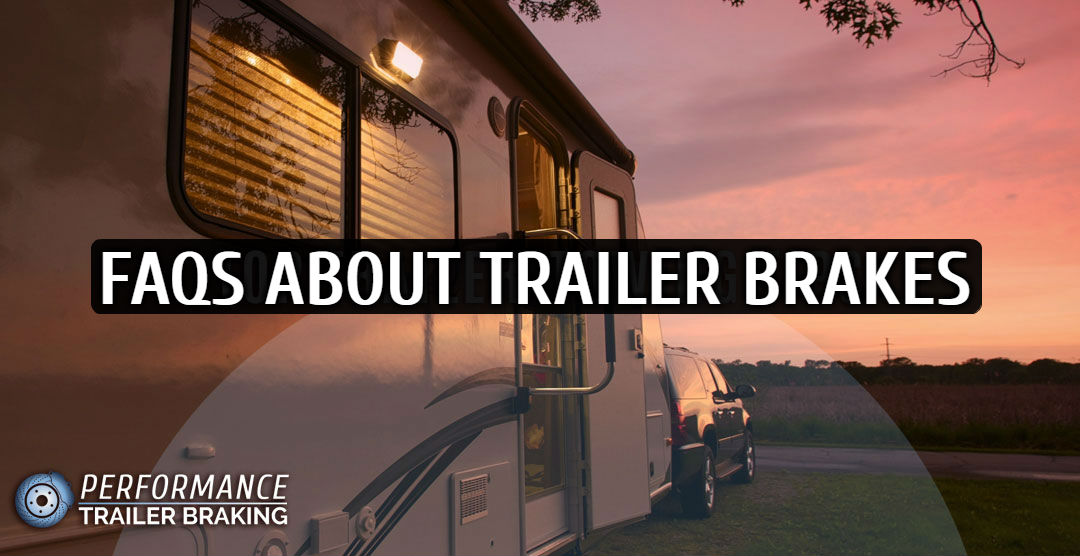 Anyone who has driven a truck with a trailer attached, regardless of what it was hauling, knows that the brakes take a little bit more planning and care in order to move from point A to point B safely. Since we are accustomed to being able to slam on the brakes in our normal vehicles, this can take some practice for those who are not used to driving around with a trailer attached to the back. Your trailer brakes operate much differently than your vehicle's, and these brakes are usually more susceptible to damage and general wear and tear since they are exposed to the world around them. Here are a few of the most commonly asked questions we hear at Performance Trailer Braking. Read on to learn more!
How Do My Trailer Brakes Work?
Trailer brakes are always using one of the three systems: Hydraulic Surge, electric, and electric over hydraulic. We at Performance Trailer Braking specialize in electric over hydraulic systems, or EOH.
Hydraulic Surge trailer brakes use a surge actuator that releases fluid into the brake as you press down on the brake. This fluid activates the brake. This is most common on rental and boat trailers. Surge brakes are self-contained and do not require any special hookups or brake controllers to activate the trailer's braking system. However, there is a very short delay between the trailer brakes activating and the vehicle's brakes, which means that it will take longer for the vehicle to safely come to a complete stop. Keep this in mind as you brake!
Electric brakes are used primarily on non-boat trailer applications, as the combination of the electric portion and any water from a boat could lead to issues with the braking system. These systems require in in cab ITBC or aftermarket brake controller.
However, electric over hydraulic brakes is the happy combination between the two. These systems have an electrical brake component and a hydraulic component that merge together to bring trailers to a safe, efficient stop. These systems require in in cab ITBC or aftermarket brake controller.
The EOH actuator is typically located in the front part of the trailer and receives a signal to activate through your ITBC or aftermarket brake controller. The Brakerite EHB actuator has the fastest response time in the industry sending pressure to the calipers in .3 seconds.
Many believe that you need a huge trailer to justify disc brakes, this is just not the case. Any trailer that when stopping, you can feel the trailer pushing the tow vehicle, is a candidate for an electric over hydraulic brake system.
How Can I Tell If My Trailer Brake System Is Working?
Applying the manual override on your in-cab brake controller circumvents the brake controller settings and factory inputs and sends full voltage to the braking system. On a hard surface, with the manual override fully engaged, attempt to pull the trailer. If you can move the trailer even slightly, you brake system needs attention. If you pass this test, at a low speed, 20 mph attempt to lock up the brakes with aggressive pedal pressure. If you cannot lock up the brakes, your system needs some adjustment, repair or replacement.
Where can I get replacement brake pads for my new disc brake system?
Kodiak disc brake systems use an off the shelf GM brake pad available at any auto parts store. Dexter disc brake systems use a proprietary pad and can only be replaced with Dexter pads.
How Can I Take Care Of My Brakes?
Your trailer brakes are going to be exposed to water. Regardless of whether it's freshwater or saltwater, the brakes may eventually rust or corrode. If exposed to salt water rinse the brake assembly with fresh water to minimize rust & corrosion.
When choosing a disc brake system make sure you are buying a dacromet coated systems. These will allow 300-400 hours of salt water spray before rusting at a minimal increase in cost.
Can I Brake In Reverse?
Yes, always with electric over hydraulic and electric brakes. Surge brake systems are dependent on the type of surge actuator and brake backing plates.
Will my existing integrated brake controller work with the new electric over hydraulic systems?
Each actuator mfg. is a little different so consult with the mfg. We have installed over 400 of the Brakerite EHB actuators and have not found a truck that would not work. Some controllers that do not have an electric over hydraulic menu option may require a resistor to be added to the system. These trucks send a test signal every 5-7 seconds down the blue wire, looking for the resistance in the electric brakes. When the controller senses this resistance at message appears "Trailer Connected". When we remove the electric brakes, we remove this resistance and a resistor must be added so the correct "Trailer Connected" message is displayed. This resistor has no effect on the braking system.
What Is An Emergency Breakaway System?
In case your trailer should separate from your vehicle, the trailer brakes are automatically engaged.
If you are interested in your own trailer brake system for your trailer, be sure to shop with us today! Performance Trailer Braking is here for you.
"The brakes really work!"
Just a thank you -- shout out: the brakes really work!...On the trip north, we got into a situation that required me to perform an emergency stop. Boy, did those brakes stop. Literally l Read Moreocked up the wheels on the RV. Tires were actually smoking from skid-burned rubber. I'm pretty sure if I still had the electric drum brakes, I would have rear-ended someone. Thanks for a great system and an great installation.
Steve Andrews
"Installed to my expectations"
Dennis Hageman installed the disc brakes and suspension system yesterday.

We tested the brakes out and they are fantastic.

Dennis installed the system quickly and to my expectati Read Moreons. He even got the weather here to be perfect for such a project. :) He was patient to explain how things worked and how things worked with my pickup.
Verl S.
Rexburg, ID
"Awesome Job"
BUBBA DID AN AWESOME JOB!!! Could not be happier.
Donnie Burkett
Fredrick, MD
We accept ACH (electronic check), Mastercard, Visa, Amex, Discover, Apple Pay, and PayPal, which offers 6 months interest free with a new card.