Selecting Your Perfect RV – Part 3
July 31st, 2017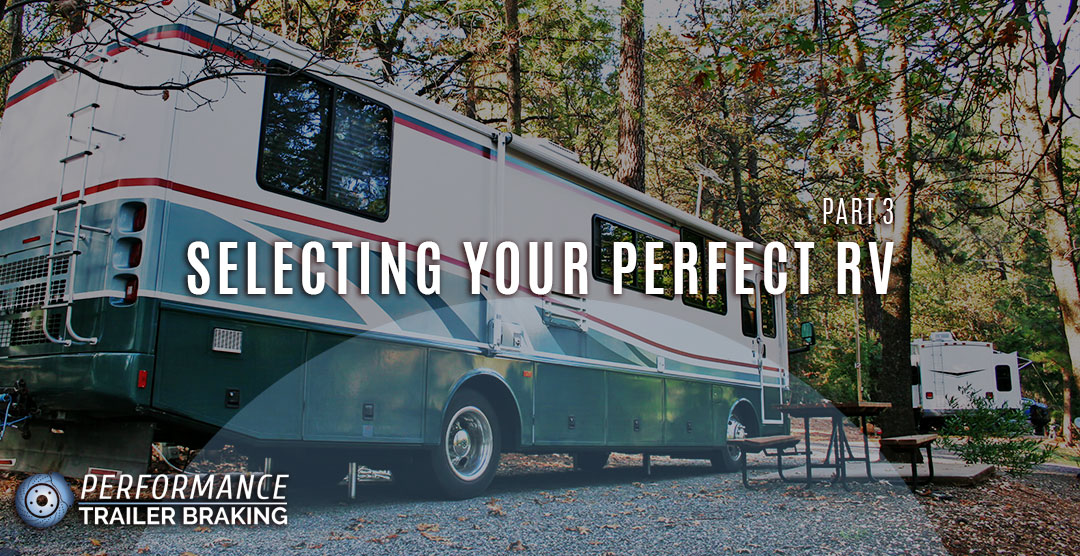 Our last two blogs have explored some of the details you need to take into consideration before you choose the RV that is going to fit your needs the best. How often will you be traveling to new places? Do you want to stay in state parks? How handy are you when it comes to vehicle repairs? All of these factors and more will determine the best possible choice for you and your RV needs. However, when it comes to finding brakes that will protect your towing vehicle for years to come, make sure to shop Performance Trailer Braking!
Planning to Park Without Hookups
If you are someone who prefers to save money by staying places where you can use your RV's features without hookups, then consider the following:
How big are the holding tanks for fresh water, gray water, and black water?
Do you need a generator? If so, what capacity is required?
Do you want solar panels? How much will that take from your budget?
Keep in mind what your goals are when you stop in a certain location. This may help you make your decision.
Cooking Schedule
If you aren't a chef and you plan to eat out all the time, then you won't need a huge kitchen area with a lot of counter space. Instead, you can have that space elsewhere in your RV. However, if you need to cook a lot to save money or you just enjoy cooking, your kitchen's layout might be at the top of your list of priorities. Towables typically have more options for counter space, amenities, and kitchen storage, so keep this in mind.
Financing or Not
Whether or not you are choosing to finance might have an impact on what rig selection you make. You can usually finance a motorhome the same way you can a foundation house. Obviously, this will use more interest in the long run, but your payments will stay low. This can be trickier if you are looking to get a towable and need to finance your towing vehicle as well. Financing both of these items at the same time will absolutely result in higher monthly payments, as you will not have as long to pay it off. Figure out which option makes the most sense to you financially!
Budget Considerations
Honestly, your budget should be the biggest factor when it comes to choosing the right RV. Do consider everything we have mentioned in this blog series, but be sure to adhere to your budget and pay in cash as much as you can. Buying a used RV can sometimes be the best option, and research can take quite a bit of time. The good news is, it's likely that you'll be able to find exactly what you are looking for within your budget. You will want to spend as much money as you can upfront towards a down payment so that your interest rates remain low as time goes on. However, it will be worth it once you are ready to hit the road and embrace this new lifestyle.
Shop Performance Trailer Braking
Be sure to keep everything we have mentioned in mind before you take the plunge and invest in an RV! While there are many options to choose from, there is one thing you should never sacrifice in your trailer decision: brakes. Let Performance Trailer Braking help you as you select the perfect hydraulic over electric brakes for your rig. We want you and your family to be safe, even when you need to brake quickly. Reach out today and let us know how we may be able to help you!
"Thank you for making this happen"
Preston and Alyssa did a fantastic job, very professional couple and a great representative for Performance Trailer Braking. Thank you for making this happen. 💯
Pam Falks, Georgetown, TX
"Wow, what a difference!"
Just finished having Disc Brakes installed yesterday by "Bill" the installer for Performance Brakes. Wow, what a difference! After completing yesterday we left on a 175 mile test journey. Read More Drove two lane twists, small towns, and freeway. The braking ability is much more than I expected. During my test ride with installer he had me do a hard brake situation going about 25 mph and we came to a stop in about half the distance of my old brakes. These brakes give you a lot of comfort when driving knowing I can stop quickly if needed. Interestingly, the old brakes which we took off only had about 8k miles on them and the pads were half worn and the eltromagnets were badly worn on two of the wheels. Granted we do more two lane twisty road driving than freeway driving. Bill the installer was very meticulous about his work and in addition found some wires that weren't crimp right (not related to brakes) and fixed them without saying anything until he was done. I would recommend him without any hesitation for Brakes and suspension work. I will report back if there's any change after our 175 mile trip home tomorrow.
Dave Lannoy, NROA Forum Member
"Disk Brakes Rock!"
Disk Brakes Rock! I just converted to disk brakes, using the Titan Performance Trailer Brakes. Whoa Nellie, do they stop smoother and quicker.
Jay Six, Arlington, TX