Selecting Your Perfect RV – Part 3
July 31st, 2017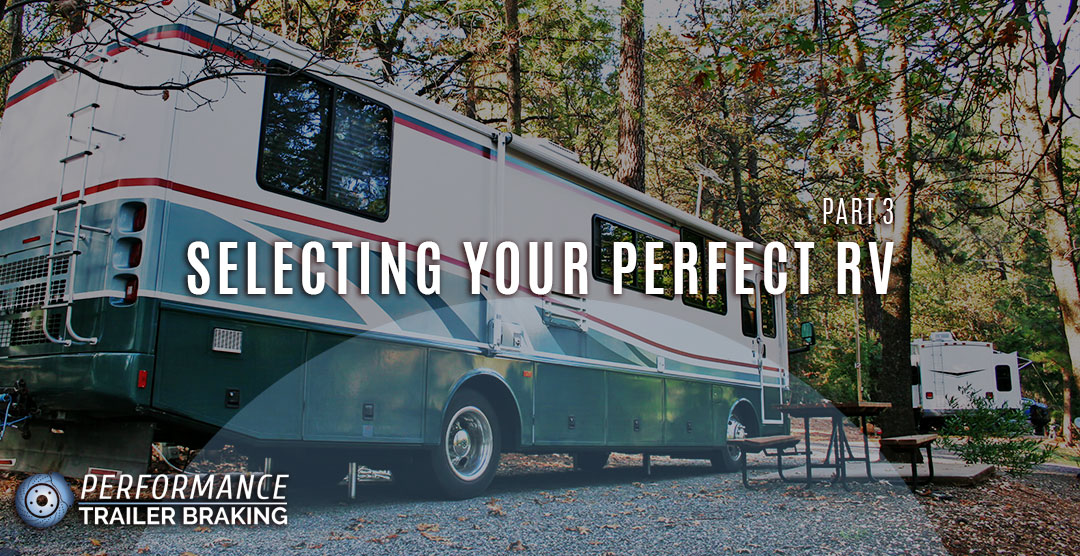 Our last two blogs have explored some of the details you need to take into consideration before you choose the RV that is going to fit your needs the best. How often will you be traveling to new places? Do you want to stay in state parks? How handy are you when it comes to vehicle repairs? All of these factors and more will determine the best possible choice for you and your RV needs. However, when it comes to finding brakes that will protect your towing vehicle for years to come, make sure to shop Performance Trailer Braking!
Planning to Park Without Hookups
If you are someone who prefers to save money by staying places where you can use your RV's features without hookups, then consider the following:
How big are the holding tanks for fresh water, gray water, and black water?
Do you need a generator? If so, what capacity is required?
Do you want solar panels? How much will that take from your budget?
Keep in mind what your goals are when you stop in a certain location. This may help you make your decision.
Cooking Schedule
If you aren't a chef and you plan to eat out all the time, then you won't need a huge kitchen area with a lot of counter space. Instead, you can have that space elsewhere in your RV. However, if you need to cook a lot to save money or you just enjoy cooking, your kitchen's layout might be at the top of your list of priorities. Towables typically have more options for counter space, amenities, and kitchen storage, so keep this in mind.
Financing or Not
Whether or not you are choosing to finance might have an impact on what rig selection you make. You can usually finance a motorhome the same way you can a foundation house. Obviously, this will use more interest in the long run, but your payments will stay low. This can be trickier if you are looking to get a towable and need to finance your towing vehicle as well. Financing both of these items at the same time will absolutely result in higher monthly payments, as you will not have as long to pay it off. Figure out which option makes the most sense to you financially!
Budget Considerations
Honestly, your budget should be the biggest factor when it comes to choosing the right RV. Do consider everything we have mentioned in this blog series, but be sure to adhere to your budget and pay in cash as much as you can. Buying a used RV can sometimes be the best option, and research can take quite a bit of time. The good news is, it's likely that you'll be able to find exactly what you are looking for within your budget. You will want to spend as much money as you can upfront towards a down payment so that your interest rates remain low as time goes on. However, it will be worth it once you are ready to hit the road and embrace this new lifestyle.
Shop Performance Trailer Braking
Be sure to keep everything we have mentioned in mind before you take the plunge and invest in an RV! While there are many options to choose from, there is one thing you should never sacrifice in your trailer decision: brakes. Let Performance Trailer Braking help you as you select the perfect hydraulic over electric brakes for your rig. We want you and your family to be safe, even when you need to brake quickly. Reach out today and let us know how we may be able to help you!
"Quick & Efficient"
You guys rock!! Installed all new suspension and brakes and couldn't be happier! I pulled it last night and it is night and day.

Thank you for the quick ship and efficient trans Read Moreaction.
Darrin H.
Roanoke, TX
"Thanks again for the great experience!"
Kelly,

It has been an awesome experience thanks to you, Michael, Preston and Alyssa. After finishing a conference call about 10:00 AM this morning, I hooked up the RV and pulled it o Read Moren a 60 mile round trip just to check it out. WOW! Huge improvement in ride and the brakes are phenomenal! We have our first trip with the new setup next week. Looking forward to that more than ever!

I never shared the following story. My neighbor at the storage facility installed disc brakes on his Grand Design toy hauler. He recommended a company in Weatherford, Texas. I made three attempts to set up an appointment over the last 5 months. Each time something on their end came up that changed that, or they were incomplete in details requested.

This is when I went to Utube and discovered Performance Braking. I was shocked and very pleased when I found out that your installers come to us. The other company required two days with the RV after I delivered it. I was even more shocked to find a company that responds to questions after hours like Michael did, even when it was my mistake that led to that need.

Thanks again for the great experience! I will not hesitate to share that experience with others when the opportunity presents itself.
Wayne A.
Highland Village, TX
"Professionalism, thoroughness, & mechanical skills"
I wanted to pass along to you all how happy I was with Preston's professionalism, thoroughness, and mechanical skills. He performed the work and was very accommodating.
William Bonta
Tebbetts, MO
We accept ACH (electronic check), Mastercard, Visa, Amex, Discover, Apple Pay, and PayPal, which offers 6 months interest free with a new card.