Basics Of Electric Over Hydraulic Brake Conversion
June 1st, 2017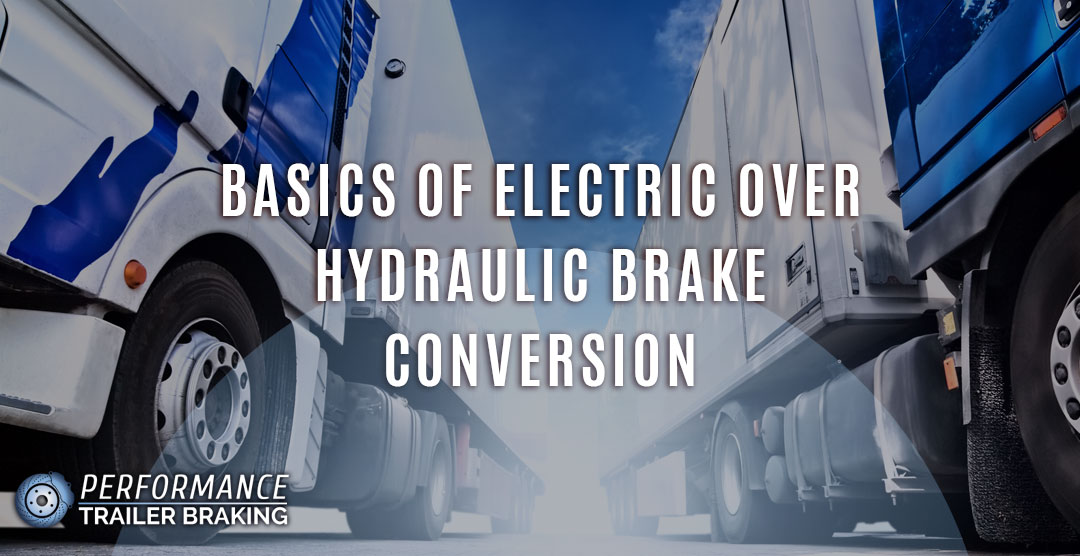 While there are several types of braking systems available, electric over hydraulic brakes might just be the best possible option on the market. When it comes to converting your brake system, we would like to share with you what you might be able to expect. If you would like professional installation help, be sure to let us know!
Why Electric Over Hydraulic?
While standard electric brakes are 1940's technology, many manufacturers stick to this braking system because of the cost. They allow the new trailer owners to decide whether or not they want the best brakes available on their own and make that cost decision themselves. Electric over hydraulic brakes are superior to their electric counterparts generating over 1,000 lbs. of braking pressure vs. 400-500 lbs. on electric brake systems. Unlike electric brake systems, hydraulic systems do not need adjustment and generate equal and full force to all wheel positions resulting in consistent braking.
Hydraulic brakes allow for hydraulic fluid to flow directly to the brakes, where the pressure engages them. With the electric component, this system sends an electrical signal to the trailer's brakes via a brake actuator.
What Are The Components?
There are three main parts to electric over hydraulic brake installation: brake controller in the truck, the electric over hydraulic brake actuator on the trailer, and the hydraulic disc brakes on the wheels of the trailer. Of course, there are wiring and pressure lines that are needed to connect these components. The brake controller is wired into the truck; the brake actuator is wired into the 7 pin connector on the trailer where the truck plugs into it; and the high pressure lines are installed between the brake actuator and the disc brakes on every wheel.
How Does The Installation Work?
First, ensure you have been shipped all the correct parts necessary to complete your install. Contact your supplier if necessary.
The trailer needs to be jacked up and the wheels need to be removed to access the brake assembly. Use your manufacturer's recommendations for lifting the trailer.
Then, the electric brake drums and backing plates need to be removed and the caliper bracket installed on the axles brake flange. The new bearings packed with grease, install bearings & seals into the integrated hub rotor and install on the spindle. The brake calipers can then be mounted on the caliper bracket.
Determine where to mount the electric over hydraulic actuator. Important considerations are the physical size of the actuator and is it weatherproof. A weatherproof actuator like the Brakerite EHB allows the actuator to be mounted anywhere. After this, the electric over hydraulic actuator needs to be installed on the trailer and wired per the manufacturer's recommendation.
Steel brake line tubing is used to run from the actuator to the calipers. We prefer steel tubing over rubber because of the high pressures generated by electric over hydraulic actuators. Once everything is connected, the brakes bled and the system tested, the wheels are installed back onto the trailer. After that, the trailer is ready to go!
How Do Electric Drum Brakes And Electric Over Hydraulic Brakes Compare?
The difference can be felt immediately. If you have ever driven around a trailer that has electric drum brakes, you know that you can feel the trailer physically pushing the tow vehicle. With electric over hydraulic, the truck and trailer seem to stop together evenly without one stopping the other. Braking is proportional to your speed, and it's much smoother than the jerky sensation you might feel with electric drum brakes.
As the electric brakes age, the braking power decreases, you will need to crawl under the trailer to adjust the electric brakes. Then you keep adjusting the gain on your brake controller attempting to achieve optimum trailer braking. This process repeats itself multiple times over the life of the brakes. Just like the hydraulic disc brakes on your tow vehicle, there is no adjustment to the trailers hydraulic disc brakes You get equal and full pressure on all wheel positions for the life of the disc brake pads with no adjusting the brake controller gain.
The Final Result
Many people who spent years dealing with just electric brakes cannot believe that they waited so long to switch to electric over hydraulic brakes. If you are concerned about brake installation, have no worries. While most local shops have little to no experience in installing these systems, we offer 24 hr. support to anyone. Or, you can contact our professional installer network.
Our installer network covers 48 states, bringing professional installation to your door. Performance Trailer Braking is the company to turn to when you are looking for braking systems you can trust, as well as professional installation experts you can rely on for proper installation. Make your trips safer and smoother with Performance Trailer Braking and shop today!
While there are several types of braking systems available, electric over hydraulic brakes might just be the best possible option on the market. When it comes to converting your brake system, we would like to share with you what you might be able to expect. If you would like professional installation help, be sure to let us know!
"You'll never go back!"
I met The Titanguy at the Dallas RV show in September and have long been wanting disc brakes on my coach. Great gear, works very well... Read More I love them, the extra stopping power, quick response, peace of mind they are going to be there when I need to STOP !!!! Highly recommend if you are thinking about disc brakes to consider Titan and talk to Ron.
Tim Sacrey, Heartland Owners Group
"Wow, what a difference!"
Just finished having Disc Brakes installed yesterday by "Bill" the installer for Performance Brakes. Wow, what a difference! After completing yesterday we left on a 175 mile test journey. Read More Drove two lane twists, small towns, and freeway. The braking ability is much more than I expected. During my test ride with installer he had me do a hard brake situation going about 25 mph and we came to a stop in about half the distance of my old brakes. These brakes give you a lot of comfort when driving knowing I can stop quickly if needed. Interestingly, the old brakes which we took off only had about 8k miles on them and the pads were half worn and the eltromagnets were badly worn on two of the wheels. Granted we do more two lane twisty road driving than freeway driving. Bill the installer was very meticulous about his work and in addition found some wires that weren't crimp right (not related to brakes) and fixed them without saying anything until he was done. I would recommend him without any hesitation for Brakes and suspension work. I will report back if there's any change after our 175 mile trip home tomorrow.
Dave Lannoy, NROA Forum Member
"Disk Brakes Rock!"
Disk Brakes Rock! I just converted to disk brakes, using the Titan Performance Trailer Brakes. Whoa Nellie, do they stop smoother and quicker.
Jay Six, Arlington, TX