10 Tips To Prepare For An RV Trip – Part 2
August 20th, 2017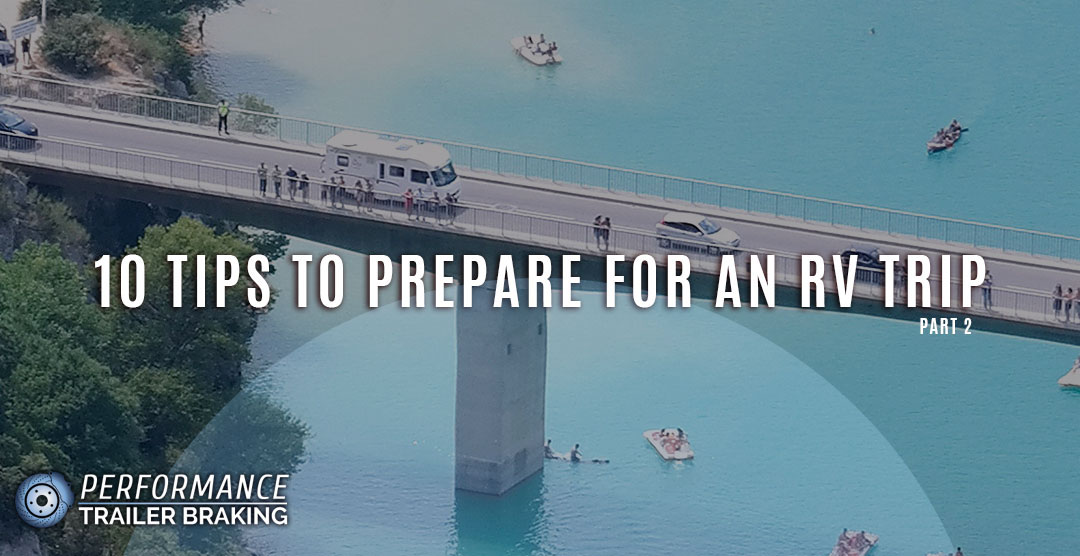 Hello, and welcome back to our blog! Last time we talked about five of our top tips to prepare for an RV trip. This time we'll go through the next five. Whether you're a new or experienced RVer, these tips will help you get on track and be prepared for your next trip. Even if you're just taking a short trip, you'll need to plan ahead to get the most out of your journey.
6. Purchase RV insurance
Just like your car and home, you should have insurance for your RV. RVs are a major financial investment, so it's in your best interest to protect your purchase and get insurance. If you call your current auto insurance company, you'll be able to add an RV to your insurance plan. Make sure you do your research and determine what insurance works best for you. If you keep a lot of valuable assets in your trailer and you spend a lot of time on the road, it is recommended to get a better coverage plan.
7. Plan your budget
Regardless of how long you will be away from home, there's always a chance that something could go wrong with your RV and something in it. In the event, you'll want to have a backup plan and some extra cash to fall back on if you find yourself without food, water, or anything else that's essential. You should know how much it would cost to perform basic repairs on your RV, as well as learning basic repair procedures in case you're somewhere that you can't get help.
8. Plan your trip
Along with planning your budget, you'll need to plan your trip. The longer the trip, the more time you should spend planning. You'll need to determine what sights you want to see, find the shortest distance between them, and make sure there are enough gas stations and rest stops in between them. Don't just try to keep all this information in your head, make sure you have a physical map that you can draw on and circle where you will visit.
9. Don't pack all at once
A common mistake that everyone makes while preparing for a trip is to pack everything all at once. This is harder to do with RV trips because they tend to be a little more involved. Before an RV trip, there's a lot of work you'll need to put into making sure the RV is ready and safe for you to live in for the next several days or weeks.
10. Check your brakes
When you go on a road trip, it's essential to have breaks that are functioning properly, especially if you're going to be driving through the rain or snow. With a disc brake kit, you'll be able to install brakes on your own, without the help of a specialist. With these kits, you won't have to pay labor costs which are usually in the hundreds for replacing all brakes.
You won't need advanced mechanical knowledge to install these breaks. Brake kits are easy to install and come with a complete set of directions that will guide you through the entire process. Another benefit to installing your own brakes is that you don't have to schedule a time with a mechanic and spend time out of your busy day waiting for a mechanic to finish with it. Everything can be done on your own time and ensure both your RV and towing vehicle are protected.
If you order disk brakes through Performance Trailer Braking, you'll get access to free technical support whenever you need it! Contact us today to learn more information about electric over hydraulic brakes.
"Second to None...."
Josh and Heather arrived on time and after we introduced ourselves to each other they got right to work

They are a great team working together seamlessly and in sync with each others Read Moreneeds

Their professionalism was second to none and gave me some tips to help with the CRE 3000

We also talked about the cross member for me and I will be doing that hopefully this fall or early next spring

Again, Josh and Heather are FIRST CLASS!!!

Brett
Brett T
Vancouver, WA
"Wow, what a difference!"
Just finished having Disc Brakes installed yesterday by "Bill" the installer for Performance Brakes. Wow, what a difference! After completing yesterday we left on a 175 mile test journey Read More. Drove two lane twists, small towns, and freeway. The braking ability is much more than I expected. During my test ride with installer he had me do a hard brake situation going about 25 mph and we came to a stop in about half the distance of my old brakes. These brakes give you a lot of comfort when driving knowing I can stop quickly if needed. Interestingly, the old brakes which we took off only had about 8k miles on them and the pads were half worn and the electromagnets were badly worn on two of the wheels. Granted we do more two lane twisty road driving than freeway driving. Bill the installer was very meticulous about his work and in addition found some wires that weren't crimp right (not related to brakes) and fixed them without saying anything until he was done. I would recommend him without any hesitation for Brakes and suspension work. I will report back if there's any change after our 175 mile trip home tomorrow.
Dave Lannoy
NROA Forum Member
"Awesome Job"
BUBBA DID AN AWESOME JOB!!! Could not be happier.
Donnie Burkett
Fredrick, MD
We accept ACH (electronic check), Mastercard, Visa, Amex, Discover, Apple Pay, and PayPal, which offers 6 months interest free with a new card.