10 RV Resorts You Should Know About – Part 2
October 7th, 2017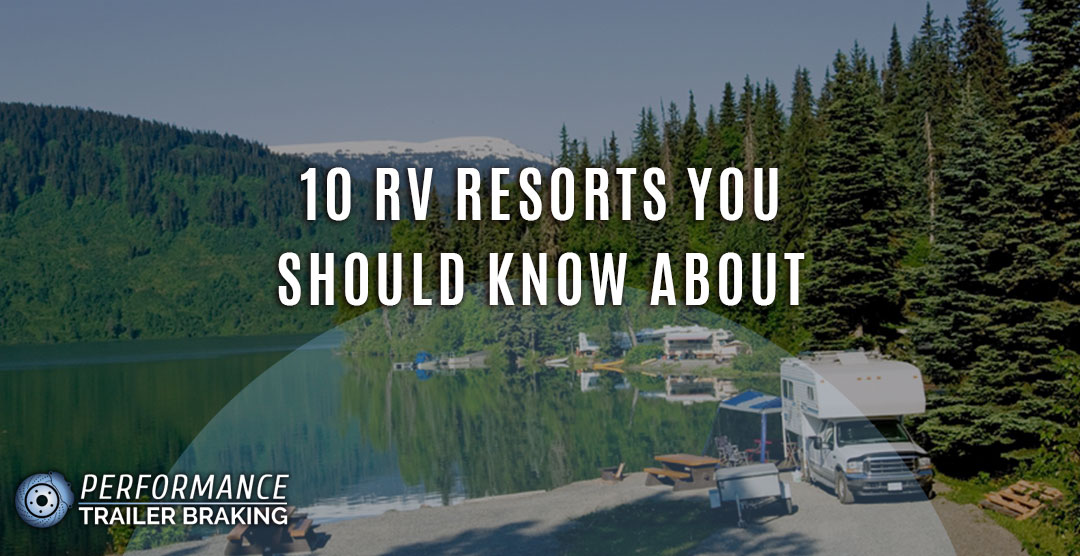 Hello, and welcome back to our blog! Last time we talked about five RV resorts you should know about. This time we'll talk about five more resorts that you should be visiting with your family!
There's a lot of things you need to consider before you choose your next RV resort. Among the most important things are: what kind of scenery you enjoy, what activities you'd like to do while you're there, and what amenities you will need. It can be a long process trying to narrow down which destination is best for you, so we're going to talk about five more resorts that you should know about to help you decide.
6. BlueWater Key RV Resort – Florida
Located 14 miles north of Key West, BlueWater Key is preferred among RVers who love swimming, fishing and relaxing in the Florida Keys. Their sites are large and average 35 feet wide and 80 feet longer or bigger. Each one has water, sewer, electric, wifi, and you'll have a choice of bay-front lot, canal lot, or tropical lot. Other amenities include a dog park, storage facility, and trash pick-up.
7. The Shady Dell – Arizona
The Shady Dell is probably the most unique RV resort on this list in that the place is decked out with vintage trailers and buses for you to stay in. That's right, you don't even need an RV to come to this RV resort. Trailers like the 1959 Boles Aero, 1957 El Rey, and 1957 Airfloat are all fully designed with appropriate vintage decor and appliances to give you give you the retro vibe. This is a great resort for a change of pace from traditional RV resorts, but be aware that this is an adults-only getaway.
8. Hilton Head Island Motorcoach Resort – South Carolina
Conveniently located just a block away from the Island Crossings Shopping Center on Hilton Head Island, Hilton Head Island Motorcoach Resort is great for those who love enjoying the beach. You'll also be close to several bustling cities with Savannah, Georgia just an hour away and Charleston, South Carolina just two hours away. This historic city is a must-visit if you like great food, scenery, and old architecture! Amenities at this resort include a temperature controlled pool, spa, lounge, exercise room, tennis courts, and much more.
9. Bella Terra of Gulf Shores – Alabama
Located just a few miles away from the Gulf of Mexico, Bella Terra has a fenced-in dog park, jacuzzi, sauna, private movie theater, and expansive lake views from each lot. Bella Terra is one of the Top 5 Class A RV resorts in the United States, so If you want a great luxury location for RVing, this would be great for you!
10. Durango RV Resort – California
This California RV resort is located on the Sacramento River and has 174 sites, all with electricity high-speed wifi, and cable. Amenities at this resort include a pool, hot tub, lodge room, any-size pull-through spots for big RVs, and other on-site activities.
Finding The Right Brakes
After deciding where to go for your next trip, you're going to need brakes you can trust. Performance Trailer Braking is here to help with our electric over hydraulic brakes. These brakes are a huge improvement over standard drum brakes and grant you the safety assurance that you deserve while out on the road. You can install these brakes yourself and won't need to pay for service charges to have them installed!
Contact Performance Trailer Braking today and let us help you find the perfect electric over hydraulic brakes to fit your needs. If you'd like more information on everything related to camping trailers, RVs, and brakes, stay tuned to our blog!
"Nothing but praise"
I wish to thank the entire PTB team for their professional service. From the initial set up of parts needed, ordering and shipping and finally the installation yesterday by Josh and Heat Read Moreher, I have nothing but praise for Performance Trailer Braking. Thank you for living up to your superb reputation.
Dave Walker
"Awesome Job"
BUBBA DID AN AWESOME JOB!!! Could not be happier.
Donnie Burkett
Fredrick, MD
""WHY DIDN'T I DO THIS YEARS AGO?!?!?!?!!!""
Just a quick note to share some final feedback. I completed the installation with no incidents and I only had to place one phone call to address an actuator wiring question. That quest Read Moreion was handled effortlessly, professionally, and left me with a crystal clear understanding of how to proceed. I took the camper out for a 60 mile test drive 2 days ago and it went flawlessly. The only negative I came away with was the burning question "WHY DIDN'T I DO THIS YEARS AGO?!?!?!?!!!". This setup is a game changer and if I knew then what I know now I would have done the conversion on a brand new camper before even taking it out on its maiden voyage.

You folks put together a very nice and concise kit package and the directions are quite straightforward. The technical call is a wonderful safety net, just in case. I couldn't be happier with my purchase decision and I will recommend you folks to anyone with even a mild interest. I look forward to years of highly effective braking from my rig, thanks to your superb kit.
Mike H
Mineral Bluff, GA
We accept ACH (electronic check), Mastercard, Visa, Amex, Discover, Apple Pay, and PayPal, which offers 6 months interest free with a new card.